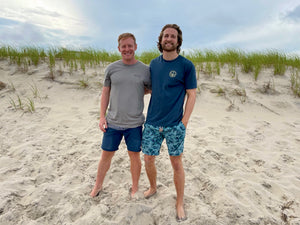 About Us
About Us
Dunebird is owned and operated by two lifelong friends; Howie and Zach. Born and raised in Medford, New Jersey, the two of us have spent countless summers down in Long Beach Island, NJ.
Our story begins at a house party during the 
2019 Canoe Carnival
 in Medford Lakes, NJ. The original owners of Dunebird, Jake and Nick, gave Zach and his friends free Terry Towel Pullovers (we must've seemed pretty chill).
The pair explained that they had recently started the company, but didn't have enough time to focus on the project.

The next weekend, Howie saw Zach and the rest of their friends wearing the apparel and raving about how comfortable it was. 
"What are those?" Howie asked.
"They're Dunebirds!"
Howie reached out to the founders to see if they were willing to sell the company. Luckily, they were. In January of 2020, Howie and Zach acquired Dunebird.

We set out to create a casual, laid-back beach brand that can be loved by surfers and weekend beachgoers alike. Beach days can easily roll into beach nights and we wanted apparel that we could wear to feel comfortable and look good from sunrise to sunset.

All of our products have been vetted by yours truly and we hope you enjoy them as much as we do.
- Howie & Zach
---